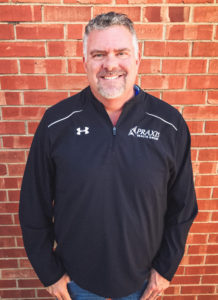 Dane Johnson
Praxis Health Group's Founder and CEO
"Our goal is to provide expertise in all back office functions for small hospitals and Critical Access Hospitals in rural areas."
"Growing up in a small town in Texas, the hospital was a place that employed many people in our community. My friends had parents that worked in the medical field, so I knew the people that worked there. The heart they had for serving others had an impact on me that has stayed with me. Since then, the fondness I had for those people and my career in technology merged. Today, the two have transitioned into a genuine desire to help rural hospitals serving small town communities.
At Praxis, we not only want to see these hospitals surviving, but we want to show them how to thrive in today's healthcare environment. Creating Praxis Health Group allowed me the opportunity to share innovative solutions that can help rural, critical care hospitals operate more efficiently and profitable. We can help them free their staff of these peripheral duties and focus on the needs and comfort of their patients' experience."
~ Dane R. Johnson, CEO
Dr. Michael Carter – CPA, FACHE, PHD
Praxis Health Group's Operations Officer
Dr. Carter is a healthcare industry expert bringing to the position 22 years of experience spanning the full gamut of healthcare management. He is a passionate professional with a strong commitment to delivering healthcare grounded in quality, compassion, integrity, and dignity. He combines these human values with strong financial experience and acumen to ensure that the institutions under his management remain financially able to provide the essential services that their community desperately needs.  Dr. Carter has served as CEO of five Critical Access Hospitals, with net annual patient revenues ranging from $14 to $29 million. He has overseen the successful conversion of many free‐standing clinics to Provider‐Based Rural Health Clinics. Dr. Carter has an extensive background in operations, finance, and human resources, having turned around struggling institutions and recruiting and retaining valuable talent in some of the most difficult recruiting markets.